oglądasz
archiwalną

wersję strony -- za 10 sek. nastąpi automatyczne przekierowane do

aktualnego

serwisu -> www.lokatormedia.pl.

jeśli chcesz kontynuować oglądanie

archiwum

, kliknij -> tutaj.
Lokatorzy
NINA HYNE & FABIEN LESURE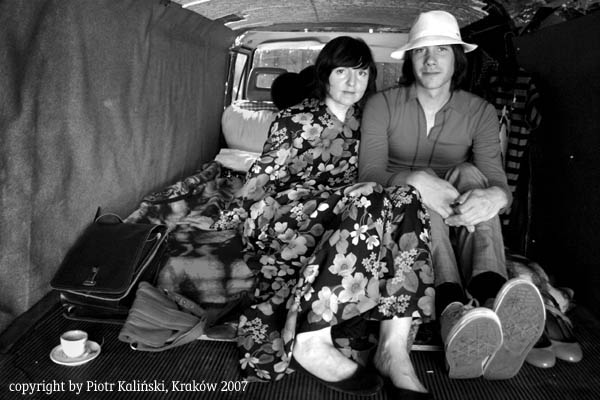 Realy realy do... love each other.
Nina: Good Morning. We are in Krakow, welcome to our home, where we have a coffee, where we have pillows and we can sleep.
Fabien: We have some clothes: Nina Hynes t-shirt, Japanese dress and a tennis dress from the 60's
Nina: 1962, France
S.K.: You could make a world tour going from a country to a country in your van and collect dresses.
Nina: We have just begun a European tour. We have been to Slovakia, Austria and now it's Poland. Then we go back to Berlin, to live forever and place ourselves there.
S.K.: Yeah, to travel in your van. Does it have a name?
Fabien: It's Hannes.
Nina: Hannes the vanes
S.K.: It's after the previous owner, right?
Fabien: exactly
Nina: hannes is a very cool guy who sold the car to us in Berlin and helped us in offices to register it. It's a lot of bureaucracy. We don't speak german yet and he was amazing.
S.K.: How did u meet him?
Fabien: We found him on a street. actually it's a funny story. The same day I was just walking on the street and I saw this van. I always think that things happening in our life happen through people who we meet and not through any kind of agencies or organizations, ordering something. We always find what we need through the people we met and that's what is cool actually and it's more human and you get communication. So I was walking down the street and I saw this van and I thought I would like to buy such van and not one of the vans you can find on internet. Just few hours later Nina called me and said: ' Hey, I just got an sms from a guy.."
Nina: this was actually making out t-shirts, printing them, so he texted me saying 'I just saw a van on the street that looks that it could be exactly for you' and he gave me a number. Few hours later I met Fabien and shown him this text 'hey, I've got THIS number' and he said: ' is it THIS number?' and I said: ' it's the same phone number!'. He found the same van on the street! Berlin is a quite big city and finding the same van on the same day was kind of -tiu, tiu, tiu- (Nina's singing) But I like such things anyway.
Fabien: it was magical. We found a perfect van with written on it 'Fur immer rock' which means 'forever rock'. It was made for us.
>>>